Think Safety First
Building owners and operators are responsible for the safety of people on their roofs. The objectives of IRC's fall hazard review and design of fall protection systems are as follows:
To identify the hazards and locations where non-compliance with current regulations and standards are present.

To provide safe working environment on the roof and work area.

To provide consultation and design an appropriate system that eliminates/limits the hazard.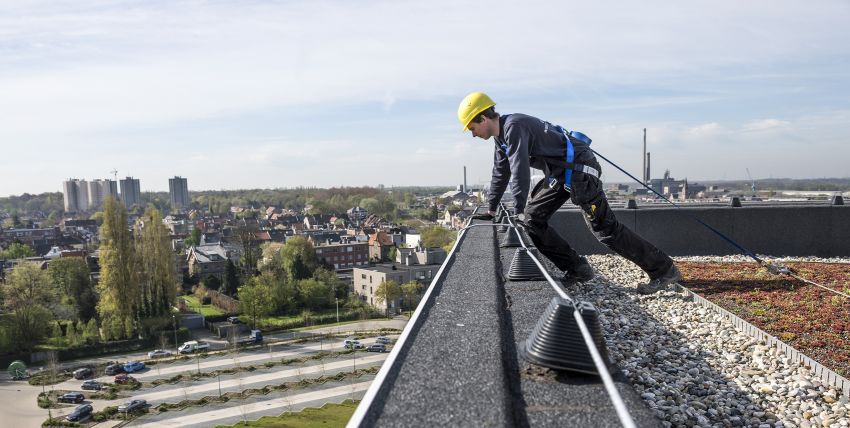 Fall Protection
In many Canadian provinces, work above 3 metres requires use of Fall Protection, and work above 10m requires a written Fall Protection Plan.

Typical Fall Protection Equipment:
Guardrails and cover guards

Ladders, walkways, and platforms

Roof Anchors for restraint and arrest

Swing stage equipment
IRC designs both temporary and permanent fall protection systems. Restraint Personal Fall Protection ensures that workers are not able to fall off roof with the system provided. Arrest Personal Fall Protection systems could allow falling, but will arrest the fall.
What Building Owners Should Do
IRC can develop a rooftop safety policy / procedure for employees and contractors, helping you stay within Provincial and Federal regulations.

All building owners should consider:
Controlling roof access

Providing safe access via ladders, walkways, etc.

Eliminating hazards (old guardrails, debris, etc.)

Training employees on Fall Protection awareness

Developing Fall Protection plans

Reviewing contractor Fall Protection plans

Installing fall restraint or fall arrest systems

Using Control Zone procedures

Use other procedures as approved by safety authorities
Compliance & Regulations
Building owners, managers, and operators are responsible for ensuring that a roof safety policy and fall protection plan are in place, as required by the Canadian Labour Code as well as Provincial workplace safety regulators (OHSA, WorkSafeBC, etc.). Maintenance contractors are also provincially regulated, prohibiting them from working on unsafe roofs.

It is also the responsibility for the building owner to enforce the policy and document any violations. Fall protection equipment must be installed as required by provincial Fall Protection guidelines.

IRC's team of Structural and Roofing engineers design and manage the installation of fall protection systems. We assist with preparing the owner's Fall Protection Plan, as well as certification and re-certification of equipment and safety systems.